A selection of silver tableware, comprising; an Art Deco fiv...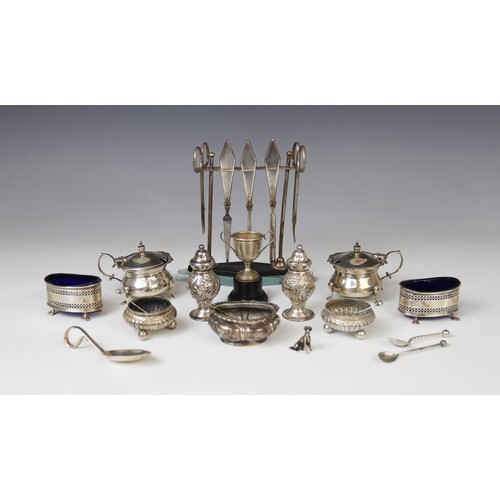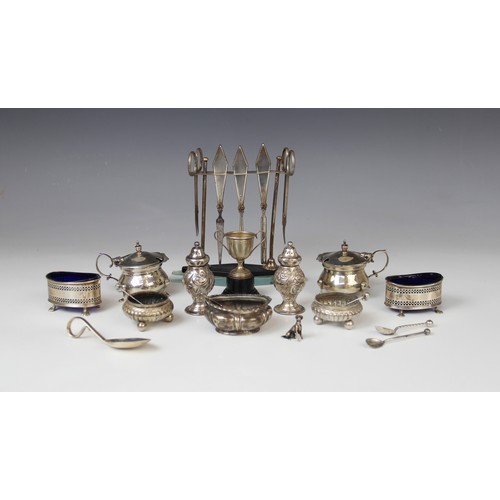 A selection of silver tableware, comprising; an Art Deco five-piece silver mounted manicure kit by Sanders & Mackenzie, Birmingham 1935-36, comprising three silver-handled files and two pairs of white metal nail scissors all set to a glass silver mounted stand, 13.8cm high, a pair of Victorian pepperettes by Deakin & Francis Ltd, Birmingham 1898, 6.8cm high, a pair of wet mustards by Robert Pringle & Sons, Chester 1919, 5.8cm high, two pairs of open salts, a further open salt, a miniature trophy cup on stand, a push spoon, five assorted salt spoons, and a miniature model of a dog, gross weight of group (excluding liners) 9.90ozt (22)
More Information
Overall good. All pieces show a minor to moderate degree of denting, wear and tear. The two circular open salts, two pepperettes and singular open salt show minor to heavy splitting and heavy denting. Signs of repair to the handle of the push spoon. Moderate degree of bending to the stand, and moderate denting to the blades of the scissors. Oval salts and mustards contain glass liners, and are in tact.
Auction Date:
23rd Jun 2021

at 9am



Fees apply to the hammer price:
Room and Absentee Bids:
24% inc VAT*
Online and Autobids:
26.4% inc VAT*
*These fees include buyers premiums and internet surcharges.
Please see the
auctioneers terms & conditions
for more information
Other Lots in this Auction
Sale Dates:
23rd Jun 2021 9am (Lots 1 to 726)

Telephone(s):
01948800202